Goldie's Quotations are the quotations made by Goldie Clemmons on the NBC TV show, The New Normal.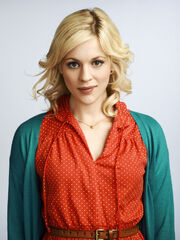 "

You think we can make it to Honolulu on half a tank?

"
"

Based on the facts of my compelling argument and my use of big words like ipso facto, I respectfully request your return of verdict of not guilty as charged.

"
"

A family is a family, and love is love.


"
"

Having a baby is a huge step. Everything in your life is gonna be covered in poop, spit up and drool. It'll be a bit like living with my soon to be ex-husband.

"
"

David: At work I'm a rock and at home I'm a rock. Like what Simon and Garfunkel would refer to as an island.


Goldie: Are those the doctors you work with?


David: Oh my god!

"
"

I became a mom in a Rite Aid bathroom. You had to borrow 25 cents to get into the stall.

"
"

That you can be whatever you wanna be no matter how many people tell you that you're nothing.

"

—Goldie to Jane about the message she's sending to Shania, Pilot
Ad blocker interference detected!
Wikia is a free-to-use site that makes money from advertising. We have a modified experience for viewers using ad blockers

Wikia is not accessible if you've made further modifications. Remove the custom ad blocker rule(s) and the page will load as expected.